Overview
Calcium powder grinding refers to limestone micro powder preparation, which is mainly used for the preparation of calcium powder and desulfurization powder for power plant.
Production Process Flow Chart
Raw materials are stored in the raw material storage. One belt weigher is set at the bottom of the raw material storage for weighing the raw materials. The weighed raw materials will be transported to the vertical mill system by the belt conveyor.
The limestone from the raw material system is fed into the vertical mill by rotary feeding valve for drying and pulverization. The raw materials fed into the mill are extruded by the grinding roller on the rotating grinding disc. Being crushed under a certain load, the ground materials is sent to the powder concentrator at the upper part of the vertical mill by hot air for sorting into coarse powder and fine powder; the fine powder is the final products, which will be collected by the high efficiency bag filter and sent to the final product system via the chute and bucket elevator.
The coarse powder fell on the grinding disc for re-grinding. In order to save energy, some of the coarse powder is discharged from the vertical mill and is returned to the vertical mill for re-grinding through the belt iron separator, bucket elevator and belt conveyor.
The exhaust gas processed by the high efficiency bag filter will escape into the atmosphere through the exhaust fan and chimmey; the drying heat source is provided by the hot blast furnace.
In order to prevent metal blocks from entering the mill, the belt conveyor is equipped with a belt type electromagnetic iron separator.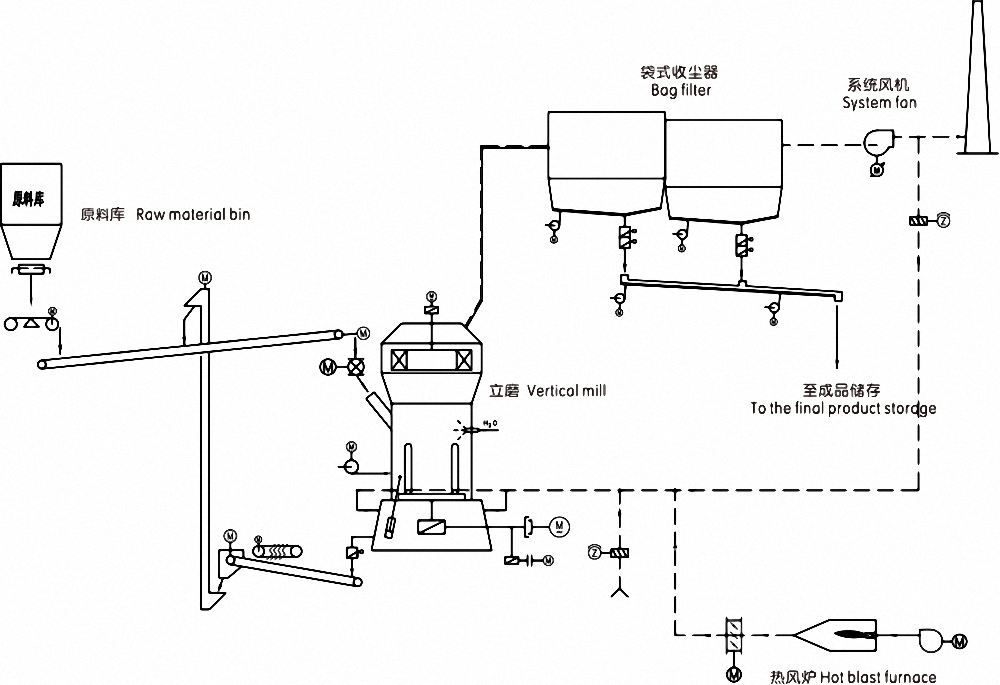 Features
1. Ultra-fine powder processing,the smallest size can reach 2500 mesh;
2. Safe and reliable operation in grinding cavity;
3. Environmental protecting,less pollution;
4. Electrical system adopts centralized control, milling workshop basic enable unmanned operation. Compared with other milling equipment, through screening rate is 99%.
Parameter
Technical Parameter (Limestone Ultra-Fine Powder)